FileMaker Pro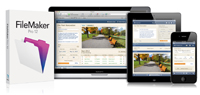 We specialise in FileMaker Pro as it gives us a remarkably capable and versatile database environment to enable the fast development of solutions for our clients; from simple data collection through to rich fully-tailored custom applications.
There are a wide range of FileMaker products for all flavours of device, these include:
FileMaker Pro 12 and Pro 12 Advanced
FileMaker Pro 12 and Pro 12 Advanced are the latest desktop versions of FileMaker. Usable on desktop machines and laptops, FileMaker Pro 12 and Pro 12 Advanced are also Mac and PC compatible allowing for both platforms to work seamlessly together.
FileMaker Server 12 and Server 12 Advanced
FileMaker Server 12 and Server 12 Advanced gives users the ability to securely host their databases. Utilising industry-standard security, FileMaker Server 12 and Server 12 Advanced can use external authentication via Active Directory/Open Directory and take advantage of SSL encryption for secure data transfer.
FileMaker Server 12 and Server 12 Advanced boasts greater performance than its predecessors, with faster WAN data retrieval, less data is sent across networks with fewer round trips. Performance over networks or processor usage can be monitored through the FileMaker Server Admin Console, where additional detailed statistics are recorded and stored for viewing.
FileMaker Server Admin Console also allows you to take complete control over your data backup strategy with custom backups. Choose from a range of pre-set options, or take complete control and choose when YOU want your backups to run. FileMaker Server 12 and Server 12 Advanced also allows you to perform progressive backups as well, backing up only the data that has changed. Choose a backup frequency between 1 and 60 minutes!
Publish your FileMaker solutions easily to the web using Instant Web Publishing. Only available with FileMaker Server 12 Advanced, Instant Web Publishing allows you to instantly host your desktop solutions to a wider audience, without the hassle of building a conventional website.
FileMaker Go for iPhone and iPad
FileMaker Go is the leading business app for iPad and iPhone. Using FileMaker Pro 12 to develop solutions, FileMaker Go 12 can be used to remotely access these database apps on your iPad and iPhone. Databases that run on FileMaker Go are full-featured apps with powerful capabilities.
You and your team can easily view, edit, search for information then securely share with each other. Capture signatures, view reports and charts, save information as PDF and Excel, email or print your data and so much more!
For more information about FileMaker Pro, please visit the FileMaker website at http://www.filemaker.co.uk/
We stock the entire FileMaker software range and can deliver FileMaker software along with Custom Designed FileMaker Solutions.